Royal Green River Luxury River Cruiser
Dedicated for authentic Myanmar river cruise, motor yacht Royal Green River is for luxury river cruise and working hard for yangon river cruise by new motor vessels in near future.
RV King Whale (Yangon River Cruise)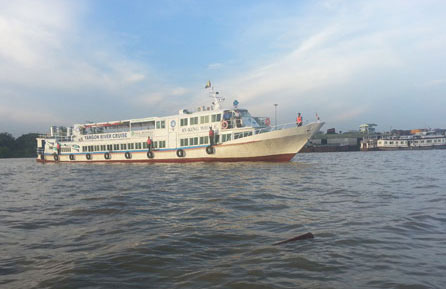 King Whale River Cruise was constructed in November 2006 at Ahlone Shipyard under the guideline of the Inland Transportation of Myanmar and start running on July 2007. The main purpose of the King Whale River Cruise is convenient and smoothly transportation of passengers in Ayeyarwaddy Delta Region. The transportation of the Cruise's iteneries is started at Luputta, Hyeigyi and Mawtin townships of the Delta Region. During the Nargis Cyclone affected in Delta Region in May 2008, most of the ships were destroyed and King Whale River Cruise was helping the rehabilitation of the disaster affected areas. The cruise was joint together with other NGOs and government for helping the people. The passenger capacity of the King Whale River Cruise is 216 and it was good image of the inland transportation in Delta Region. King Whale River Cruise had carried the good transportation for the passengers from July 2007 to August 2013 when he was running on the way. Now the King Whale River Cruise is intended to improve of travel industry in Myanmar, he is running as the River Cruise for the tourists and the itineraries are specific in Yangon River and Twantay Canal

Nmaikha Cruise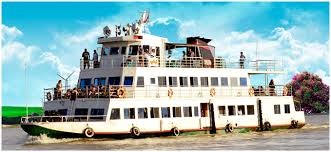 Road to Mandalay Cruise
The luxury river cruise ship has been created by Venice-Simplon-Orient-Express from Road To Mandalay Cruise the former MS Nederland. Since 1995 this totally refurbished ship sails between Mandalay and Bagan. The ship has a swimming pool, a large sun deck, a spacious observation lounge with large windows in addition to the excellent cabin facilities, a restaurant able to accommodate all passengers in one sitting and satellite communications.
RV Mahaythi Cruise
Mahaythi is licensed by the Department of Marine Administrationand Ministry of Hotels & Tourism as a passenger-carrying vessel and also licensed as a floating restaurant. Her elegance and comfort make 'Mahaythi' equally suitable for business entertainment, holidays or for that special occasion such as a honeymoon cruise.
Based on an antique rice and sand carrying barge, 'Mahaythi' is almost totally constructed from Thingan wood and furbished with Golden Teaks; she has many unique concepts which make her stand out from the other barges on the river. After an extensive re-furbishing program, the barge 'Mahaythi' is the latest, first ever, and undoubtedly, most tourist class vessel to enter the Yangon river trade. Catering to travellers and business persons alike, 'Mahaythi' plies the Yangon River and Twante Canal and its tributaries, providing an unforgetable trip and facilities in a luxurious yet traditional style.
Ayravata Cruise

RV Pandaw was built in Scotland on the Clyde by the famous ships builder Yarrow & Co on 1947 with the same design of the pre-war Quarter Wheeler steamers of the Irrawaddy Flotilla Company.
In the 1998, the vessel was converted into a tourist pleasure luxurious river cruise vessel in the Myanma Shipyard (Sinmalike) by the revived Irrawaddy Flotilla Company Ltd. and during their management docking was performed annually at the Dalla Dockyard. In the second half of the 2003, Ayravata Cruises signed the charter agreement with Inland Water Transport and the Pandaw underwent to major renovations.
Now the two ships are running under Ayravata Cruises: RV Pandaw 1947 (An original Colonial Steamer) and RV Paukan 2007 (New Charming Cruising Boutique Hotel). It offers river cruises to explore the Royal capitals around Mandalay and experience the life of the great Irrawaddy River beyond Royal Mandalay and Ancient Bagan.
Pandaw River Cruise (Irrawaddy Flotilla)
Pandaw cruising is different from other forms of cruising. The atmosphere on board is informal and relaxed. A Pandaw cruise is a deeply tranquil experience. There are no (nonessential) Tannoy announcements and other irritations normally associated with a cruise ship. Pandaw passengers like to be smart casual at night, but do not dress up. There is no captain's table at dinner or any of the other rituals associated with sea cruising.
Amara Cruise
The Amara River Cruise is a traditional Myanmar riverboat traveling along the Ayeyarwaddy River. It is made of teak wood and was completely refurbished by local craftsmen in 2003. It is 30 metres / 100 feet long and with a shallow draft of 1 meter / 3 feet and two Japan made 180hp Hino engines it can go as far north as Bhamo.
Malikha Cruise
11th Century Bagan archaeological site along with ancient thousand of pagoda and wonder of natural Inle Lake with unique leg rowing and floating firms, houses and monasteries on stilt.