Destination : YANGON – GOLDEN ROCK – BAGO – YANGON – BAGAN – MT.POPA – MANDALAY – MONYWA – HEHO – PINDAYA – KALAW – INLE – INDEIN

Tour Code: (SDM-006/15) The best of Myanmar

Tour duration: 18 days/ 17 Nights
DAY-01: YANGON ARRIVAL

Upon arrival at Yangon, you will meet our operation staff after clearing immigration and customs control at Yangon International Airport. Then transfer to your Hotel for check in and take a rest for a while. Today,  Yangon city tour that includesthe old colonial style building in city center and Bogyoke Scott Market; famous bazaar for shopping. After lunch, continue sightseeing to Kandawgyi Gardens where you can take a photo among in lush trees and idyllic lake. Sunset time will be spend at Shwedagon Pagoda, one of the fairest place and most spectacular religious monuments in the world, surrounded by an array of temples, shrines and pavilions. Take your time to be at this truly spectacular and remarkable highlight.  Night stay in Yangon.
DAY-02: YANGON – GOLDEN ROCK
In the morning, have a breakfast at the hotel. Then, directly drive to Golden Rock located about 160 km from Yangon. There are many legends about Pagoda; it is known as the Golden Rock and famous as most popular pilgrimage center in Myanmar. The Kyaikhtiyo Pagoda is built on the big boulder which is resting on the edge of the huge steep rock. Enjoy the sunset time on the hill overlooking the panoramic view over Sittaung river valley, green forest and beautiful mountain ranges. Overnight at Kyaikhto.
DAY-03: GOLDEN ROCK – BAGO – YANGON

Morning breakfast at the hotel and return back to Yangon. On the way, visit Bago for sightseeing, an ancient city of Mon Kingdom it's founded in 573 AD. Sightseeing includes; the great ShweThaLyaung Buddha Image, the world's most beautiful Reclining Buddha and Shwe Maw Daw Pagoda; one of the most venerated pagodas in Myanmar. And then visit to Kyaikpun Pagoda, KyakhetWyne Monastery. If the time is permit, en-route will be visit HtaukKyant War Cemetery. Overnight at the hotel in Yangon.
DAY-04: YANGON - BAGAN SIGHTSEEING

After breakfast, transfer to Domestic Airport to bring you to 11 century of Bagan. Upon arrival in Bagan, full day sightseeing that includesbusy Local Market (Nyaung-U) and continuing with visit to a diverse selection of the most important pagodas and temples such as Shwezigon Pagoda, Kyansittha U-Min; a small tunnel with 13th century mural painting, Gubyaukgyi Temple built by prince Rajakuma; son of King Kyansittha, Aananda Temple; with its four huge standing – Buddha images and numerous seated figures arrange around the interior gallery.
After lunch, bring you to lacquerware workshop to see how produce lacquerware accessories. Evening, visit to Manuha Temple and Nagayone Temple. Finally, sightseeing toShwesandaw Pagoda to observe a sunset in the vicinity of Bagan's ancient monuments.
DAY-05: BAGAN – MT.POPA – BAGAN SIGHTSEEING 
Morning breakfast at the hotel. And then directly drive to Mt.Popa about 48 km south east of Bagan for excursion. En-ruote, visit Kyaukpadaung Local colorful Market to see the local products. Before trekking to Mt. Popa, take the lunch at Local Restaurant. Mt. Popa known as the abode of Nats (spirits).Popa National Park with dense sandal wood forest, traditional medicinal plants and rare species of birds, butterflies are worth to see. Then, drive back to Bagan. En-route, stop at a roadside stall to witness the local way of climbing up the palm tree the making the jaggery. Overnight at the hotel in Bagan.
DAY-06: BAGAN – MANDALAY. (By Shwekeinnery Boat/ Car)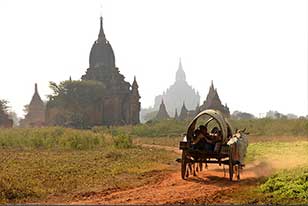 Early morning, take the breakfast at the hotel. And transfer to the jetty for river cruise to Mandalay. Along the cruise trip, you can enjoy the marvelous landscapes by seeing the activities of Ayeyarwaddy. Arrive to Mandalay in the late evening. Night stay at the Hotel.
DAY-07: MANDALAY – AMARAPURA – MANDALAY SIGHTSEEING
After breakfast, visit Amarapura, An ancient city of Kongboung Dynasty. Visit Mahagandayon Monastery where more than thousand monks live and study Buddha literature at there and U Bein Teak Bridge, built in 1782 at the time when Amarapura was the royal capital. Before returning to Mandalay, stop at a traditional hand woven silk workshop. After lunch, sightseeing proceeds to Mahamuni Pagoda, Kuthodaw Pagoda, Shwenandaw Monastery. Evening, visit to Mandalay Hill to enjoy the panoramic view of the city at sunset time.Overnight at the hotel in Mandalay.
DAY-08: MANDALAY – MINGUN – SAGAING SIGHTSEEING
After having the breakfast, morning excursion to Mingun 12km away from Mandalay. It is a very pleasant boat trip with plenty to see along the Ayeyarwaddy River. Tour Highlights include: unfinished MingunPaya (built with the intention of being the world's biggest pagoda) and the beautiful HsinbyumePaya, Settawya Pagoda, Myatheindan Pagodawith seven concentric terraces at the base. If the time is permits, observe the Gold-leaf pounding workshop before Mingun sightseeing.
After lunch, drive to Sagaing Hill over AVA Bridge across the Ayeyarwaddy River. Sagaing Hill is dotted with pagodas and there are over 500 monasteries and meditation centers, its retreat for 6000 monks and nuns. Explore Soon U Ponya Shin Pagoda, U Min Thonse Pagoda at there. Night stay in Mandalay.
DAY-09: MANDALAY – MONYWA – MANDALAY
After breakfast, visit to Monywa which is charming town set on the Chindwin River. Arrival in Monywa, visit Thanboddhay Pagoda, a huge temple that houses over 500,000 Buddha images. Take a walk through the nearby banyan tree grove Boddhi-Tataung with the thousand Buddha images sitting at the foot of each tree. Enjoy the panoramic view from Lay KyunAung Setkya Pagoda, standing 130 meter high on the Po Khaung hills. After that, back to Mandalay and overnight in Mandalay.
DAY-10: MANDALAY – HEHO - PINDAYA SIGHTSEEING
After breakfast, transfer to Mandalay Airport for flight to Heho. Upon arrival to Heho, overland to Pindaya by passing the natural beautiful scenery. In Pindaya, visit downtown to observe traditional hand-crafted shan paper and umbrella workshops. And the unique Pindayacave are await you to explore. PindayaCave is famous for its countless Buddha Images of different types are exits in there. Overnight at Golden Cave Hotel.
DAY-11: PINDAYA – KALAW SIGHTSEEING
Morning breakfast at the hotel.After that, overland to Kalaw; a small town with ethnic minorities, such as Pa-O, Palaung, besides the Shan People. On the way visit colorful Aung Ban Market where can see the regional product of Shan State especially flowers and fruits.
In Kalaw, you can still feel the colonial atmosphere with the colonial buildings and the houses with the chimney indicate the weather of the lovely town which is over 1300 meters above sea-level. Enjoy the evening by walking through Kalaw, visiting the local market, the tiny train station and perhaps walking up the hill to see the old catholic church (if open). Overnight in Kalaw.
DAY-12: KALAW TREKKING (WALINGK HOURS – 0600 HRS)


DAY-13: KALAW TREKKING (WALKING HOURS – 0700 HRS)


DAY-14: KALAW TREKKING – INDEIN – INLE. (By Boat)
WALKING HOURS – 0430 HRS
DAY-15: INLE SIGHTSEEING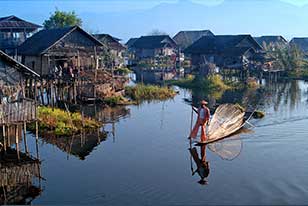 After breakfast, excursion in Inle Lake by boat. Tour Highlights include; typical floating gardens, local method of fishing, village life and magnificent scenery. Sightseeing begins with the local market in Inle lake region, PhaungDawOo Pagoda, NgaPheChaung Monastery; famous for its jumping cats trained by monks and the weaving village of Inpawkhon. Night stay in Inle Lake.
DAY-16: INLE – INDEIN SIGHTSEEING
Morning breakfast at the hotel.If the time is coincidence with five day market of Inle Lake, we'll arrange it. This is a good chance to view the hill tribe's people how to sell their local products. You will see also their ways of life that you will not experience anywhere else in the world.
After the market, visit Indein village, located at the western side of the lake. Passing NyaungOhak Monastery and follow a stair path lined up with many hundreds wooden columns, finally you'll be reach the impressive ShweIndein Pagoda Complex. From the hill side you have great view over the lake area. En-route, your boat will pass through a romantic bamboo forest at the riverside. The rest time is your leisure. Overnight in Inle Lake.
DAY-17: INLE – HEHO - YANGON
Morning is leisure in Inle Lake till to your flight back to Yangon. Then, transfer to the airport for flight to Yangon. Arrival to Yangon, transfer to hotel for 3rd Check in and the rest time are leisure. Night stay in Yangon.
DAY-18: YANGON DEPARTURE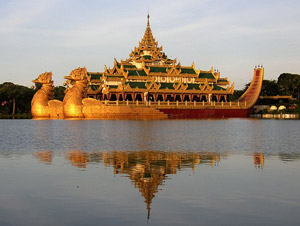 Morning breakfast at the Hotel.Then , transfer to Yangon Int'l Airport for your forward flight.